I'm finishing up answering copy-edit queries on the new book, my beliefs on the core techniques of cooking due out next fall from Chronicle, and also going over some last minute testing with the good folks at cookskorner.com.
One of the recipes being tested is a Moroccan-style braised lamb shank using lemon confit and the blend of spices known as ras el hanout.  The testers asked, for those who weren't able to find it in their town, should I include a recipe for it.
The book is already running long and I'm not an expert on the subject, so I thought why not include a link to it rather than my own version?  Yes, but how do I know the online version I find will be any less spurious than mine?
Go to an expert.  I emailed the author, teacher, cook, Paula Wolfert, whose books I admire enormously (this one on the cooking of southwestern France is a personal favorite).  Her book Couscous and Other Good Food From Morroco, first published in 1973, is still in print.
Happily, Paula is finishing up an expanded version of the book, The New Moroccan Cookbook, due out from Ecco next fall.  And she offers the following ras el hanout recipe from the forth-coming book.  (Thanks Paula, and congrats on the new book!) She notes that all ras el hanout is made according to the cook's tastes, there is no one right version (a fortunate circumstance since cubeb peppercorns can be hard to find!  (Paula recommends mustaphas.com as a source for ingredients.) She also notes that it's very volatile.  Best to make it in smaller quantities and store it well.
Ras El Hanout
(from the forthcoming The New Moroccan Cookbook, by Paula Wolfert)
The following blend, added to meat tagines that include honeyed fruits, will make sweet-tart Moroccan dishes even tastier. As little as ½ to l teaspoon of this mixture added to the other spices called for in a recipe will provide an extra boost. —PW
1 tablespoon each: whole cumin seeds, coriander seeds, black peppercorns, and
dried rosebuds
1 teaspoon each: ground turmeric, grated nutmeg, and ginger
10 green cardamom seeds
10 cubeb peppercorns
2 cloves
2 mace blades
2 soft (Ceylon) cinnamon sticks
A pinch of grated nutmeg
Toast the cumin seeds (unnecessary if they are Moroccan), coriander seeds, and cardamom pods in a heavy bottomed skillet over low heat for 5 minutes, or until aromatic and the seeds begin to crackle and pop.
Grind all the spices together, sieve and store in a closed jar in a dark place. Keeps about 1 month.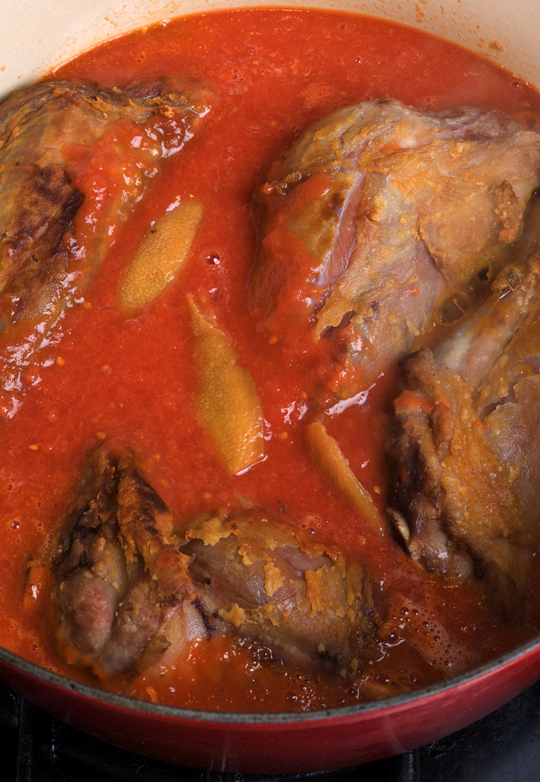 You'll have to wait for the book to come out if you want the exact recipe.  But I don't mind mentioning the subject of tomatoes here.  When I don't have stock on hand but want to braise meat, I often reach for a can of San Marzano or Glen Muir whole skinned tomatoes. I puree them right in the can (pouring off the juice first into the braising pot) and use them as the braising medium.  Results in a delicious sauce.
Sear your meat, cook down some onions and garlic, add your seasonings, such as curry or ras el hanout, add your tomatoes bring to a simmer, cover with a parchment lid, and braise at 275 t0 300 degrees F./135 to 150 degrees C. till fork tender.