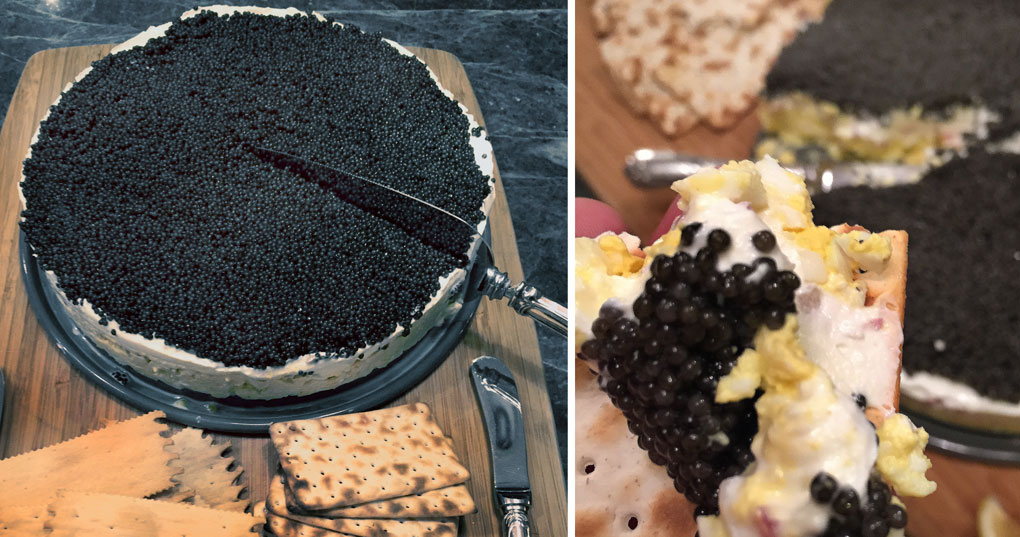 My dear friend Annie LaGravanese sent us a whopping big tin of paddlefish caviar (from Paramount Caviar). Paddlefish are native to the Mississippi basin and offer great roe. Caviar and hen eggs go great together. Throw in a little fat and something crunchy and you have a great bite. It's definitely a luxury item, but at this time of year when we do a lot of entertaining, it's worth it (especially when you have a friend like Ann!). And this pie goes a long way. It made a great hors d'oeuvre on Christmas Eve for a family of twelve.
We then brought it to a friend's dinner party three days later where it did the same, accompanied by some generous champagne from one of the guests (the preferred accompanying beverage). And yesterday, Donna and I polished it off with some cold white wine for lunch before heading off to our weekly pool game.
This is fabulous for a New Year's Eve spread, so I wanted to post it here. I also wanted to thank Annie and her beloved for their generosity. And also, I always lose Annie's recipe and she has to, oy!, resend it. Now I won't have to. It lives here!
Happy New Year to all!
Ann's Caviar Pie
12 eggs, hard-boiled
Mayonnaise (just enough to hold egg salad together, ½ cup or so)
Salt and freshly ground black pepper to taste (for egg salad—remember, a lot of fat in the form of cream cheese and sour cream will be added)
Curry powder to taste (for egg salad, just a pinch or two)
1 red onion, finely chopped, rinsed under warm water, then squeezed dry in a paper towel
8 ounces cream cheese, softened
16 ounces sour cream
1 large tin (16 ounces) American Paddlefish caviar
Grease a 10-inch springform pan with a little mayonnaise.
In a medium bowl mash the hard-boiled eggs with a fork and add enough mayonnaise so that it all adheres.
Season the egg mixture with salt, pepper, and curry to taste.
Spread the egg salad into the bottom of the springform pan.
Evenly spread the chopped red onion on top of the egg.
Mix the softened cream cheese and sour cream until smooth. Begin to drop the cheese mixture on top of the red onions, then smooth over with a wet spatula. The recipe can be prepared up to this point the day before (recommended); refrigerate covered with plastic wrap. Be sure to place the springform pan on a paper towel on a plate or sheet tray because the sour cream can cause a little leakage.
When ready to serve, remove the springform pan from the refrigerator and spread the caviar on top.
Remove the paper towel, un-ring the caviar pie, and transfer to a serving dish (or serve it off the springform pan, as I did).
Serving Note: The day before, slice French baguettes thinly on a diagonal, spread with a butter mixture of finely chopped herbs and garlic salt, bake in a very hot oven, cool, and zip-lock till serving time.
If you liked this post, then you will enjoy these links:
© 2014 Michael Ruhlman. Photo © 2014 Donna Turner Ruhlman. All rights reserved.