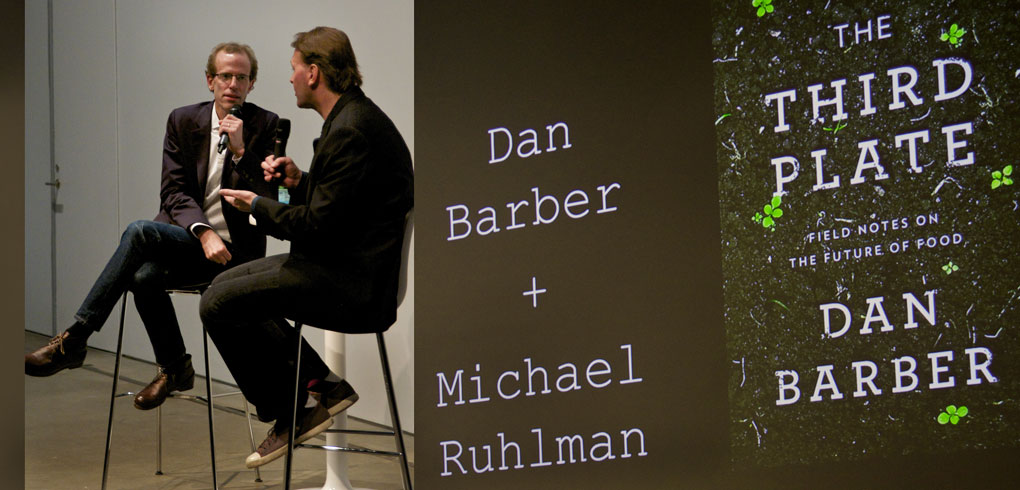 I had the great good fortune to interview Dan Barber before a sold-out crowd at Cleveland's MOCA last night, talking to him about his fine book, The Third Plate (NYTimes review here).
Barber, chef and owner of New York's Blue Hill restaurant and maestro of Stone Barns Center for Food and Agriculture, is the most vocal and articulate chef soap-boxing for a sustainable food future.
The problem has long been that, while he's been very good at articulating the problems, he's never had a realistic solution. Americans can't completely opt out of the industrial food system by relying exclusively on CSAs and farmers' markets (much as we cherish them). And chefs must cherry-pick the best ingredients if they are to keep their restaurants filled.
Until this book, that is. Barber, through excellent reporting (how many chefs record interviews with their farmers?), storytelling, and thinking, gives us a glimpse of a possible sustainable food future.
It does not involve dismantling the industrial giants. Barber believes the environment will eventually take care of that. (By way of example, he points to what happened to one of the world's biggest chicken purveyors when fuel prices rocketed in in 2007–08. Yes, we have a petroleum-dependent food system—sounds yummy, doesn't it?). And he recognizes that small farmers can't possibly feed all of America.
It's the mid-sized farm, 2000 acres and up—those doing, say, $250,000 in sales annually—that are our hope if they will let the land dictate what they grow. They account for 40% of farmland, Barber said, but their ranks are diminishing yearly. Among the heroes of his book are two such famers, Mary-Howell and Klaas Martens in New York's Finger Lakes region. They teach Barber that they can grow extraordinary wheat only if they regularly replenish the land by planting cover crops that return nutrients that are vital to the organisms that make the soil, a teeming benevolent coral reef below our feet, life-giving to the plants we rely on for our food.
Chefs, Barber says, need to show us how to make use of the cover crops as well as the wheat and tomatoes (the Martens' cover crops typically sell for animal feed). Barber puts his money where his mouth is, as it were, by serving things like the Rotation "Risotto" at his high-end restaurant in Manhattan, a porridge of rye, buckwheat, and millet, held together and made creamy and delicious by a puree of brassicas (the mustard, kale, cabbage family).
Barber wants us to recognize that we are our soil. What we put into it ultimately goes into us. Our current model of pumping petroleum-based fertilizer into depleted soil to feed plants that would otherwise starve cannot go on indefinitely. He shows that organic farming is not something we should choose because it's the morally and self-consciously "right" thing to do, but rather because it's the selfish and self-serving thing to do, the way to create truly delicious food, tastes and pleasures and nutrients that we rarely experience. Read his excellent book for the details.
Thanks for coming to Cleveland, Dan! And thanks to Jill Snyder of MOCA for hosting (next up, the Ferran Adrià exhibit).
And thanks to Amelia Sawyer (and Jonathon!) and chef Matt Danko for opening your almost-ready-to-open Trentina to our group for a truly impressive and thoughtful Ohio-grown meal created by several of Cleveland's finest chefs and restaurateurs: Fire Food and Drink, The Black Pig, Dante, Toast Cleveland, and Greenhouse Tavern. Made me proud to have them serve America's foremost forward-thinking chef and NYTimes-best-selling! author. (Had to throw that in there, Chef.)
If you liked this post, check out these other links:
© 2014 Michael Ruhlman. Photo © 2014 Donna Turner Ruhlman. All rights reserved.