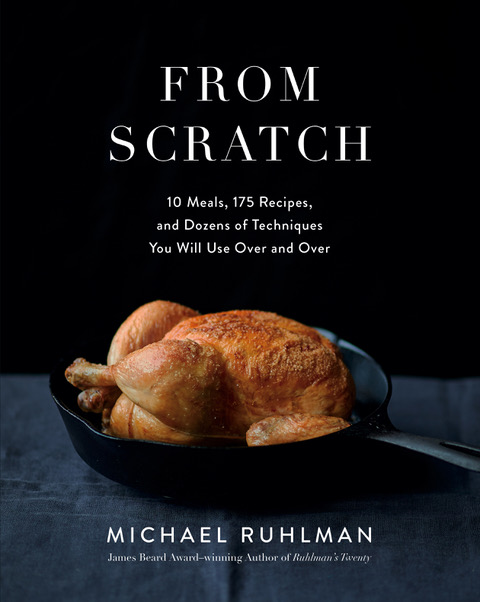 The details are these: The new book looks at 10 staple meals—roast chicken, steak dinner, lasagna—and explores all the techniques and dishes you learn simply by knowing one of them. It includes 175 recipes, gorgeous photography by Quentin Bacon of food I made in my home kitchen in Providence, RI. I'm all about technique and learning. But I sent it to recipe goddess and a writer I truly respect and admire, Ina Garten, even though I was terrified she wouldn't like the food.
To my astonishment, I received this in return: "Hi Michael, … It's simply STUNNING!! I love your voice, the recipes, the components, and all the amazing information. Small batch stocks is transformative. And the recipes we made are so delicious!"
Thank you wonderful Ina (both my wife and my mom own most of your books–why? "Because they work!" And Ina offered these words on behalf of From Scratch:
"I love this book!! Michael Ruhlman is a genius cook and teacher. I love his voice, his recipes, his tips, and the way he makes great cooking totally accessible. Through the recipes for 10 classic meals, he covers how to cook almost anything. From Scratch inspires me to be a better cook and I know you'll feel the same way I do!"– Ina Garten, Barefoot Contessa cookbooks & television. (Here latest is Cook Like a Pro.)
I also sent it to the phenom testing guru, cook, restaurateur and author, J. Kenji Lopez-Alt, who said even more:
"Like a master chef clarifying a murky stock into a crystal-clear consommé, Ruhlman detangles the complex web of technique, myth, and folklore that is cooking. With From Scratch, he embeds lessons in the context of things you really want to eat, and he shows how understanding one recipe really well can open the door to dozens of others. The lessons are set up in such a way that you can decide exactly how deep a dive you want to take, though with a guide like Ruhlman at your side, that's most likely a mouth-first leap straight into the deep end."— J. Kenji López-Alt, author of The Food Lab: Better Home Cooking Through Science (a truly amazing book, btw, and I'm just saying that to blow smoke–I referenced it often when writing mine.)
Thank you amazing Kenji!
Hope people will give it a look. The world is better and we are happier when we cook our own food. Period
I urge all to support local booksellers! We need them in our world and they won't be around if we always use Amazon, so if it's all the same to you, go independent via Indiebound.
Of course, Amazon isn't going away either. Here's the B&N link.
Do you live in Canada? Here's the link. Do you live in Australia? Here's the link for you. And elsewhere internationally, click this link.
Feel free to contact me via the contact button on the site, or michael (at) ruhlman (dot) com.
Happy cooking!